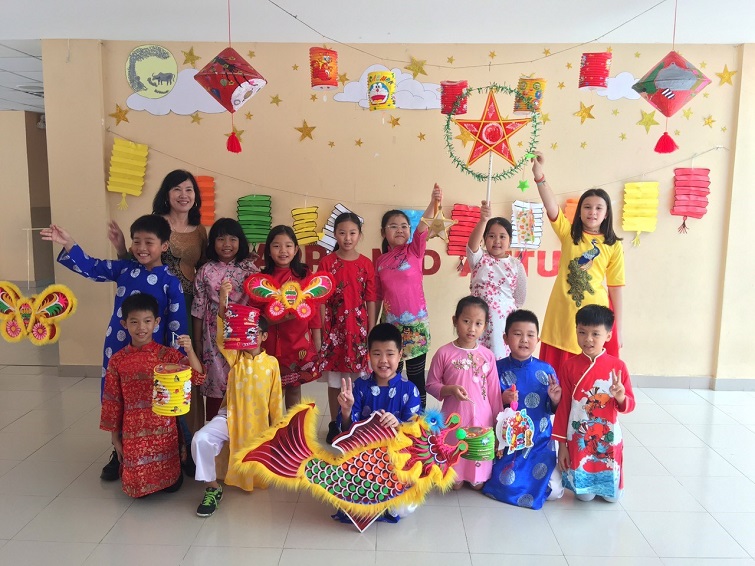 MID AUTUMN FESTIVAL
Mid-Autumn festival (Tet Trung Thu) is one of the most famous festivals and it is a traditional celebration for Vietnamese children and include paper lantern fairs and lion dance parades. Mid-Autumn Festival, also known as Full Moon Festival, is a festival mainly for the children. During the festival parents buy their children various types of lanterns, snacks and funny masks.
It is held on the 15th day on the 8th lunar month (often in late September or early October) in the middle of autumn and it is celebrated for a whole day. The festival is very much like a combination of Halloween and Thanksgiving in western countries.
This year it was celebrated on Friday 13th September 2019. At SIS@ Vungtau we had a great morning of entertainment.  Our very proud hosts Chi Hang & Chu Cuoi started off the celebration with the history of Mid-Autumn Festival.  Our very talented students from Year 8L performed a fantastic Lion Dance which symbolizes luck, wealth and prosperity. This was followed by a variety of performances from our KIK students.
 The Pre-Nursery, Nursery & K1G students presented Dem Trung Thu. Thereafter, the K2G students did an amazing performance of Anh trang tuoi tho. Our International group of kindergarten students preformed Chiec Bung Doi and lastly the Prep G students hosted their very own little Fashion Show.  Primary students (3G & 4G) presented a song Tet Suoi Hong. We had two special performances from our IGCSE 1 & 2 students.  It was a  Medley. Our proud hosts Chi Hung & Chu Cuoi presented the audience with a few riddles and funny questions and had little gifts for those who answered correctly.
Since this festival is all about children, the organisers of the event at SIS @ Vung Tau presented all the children with a variety of snacks and treats.