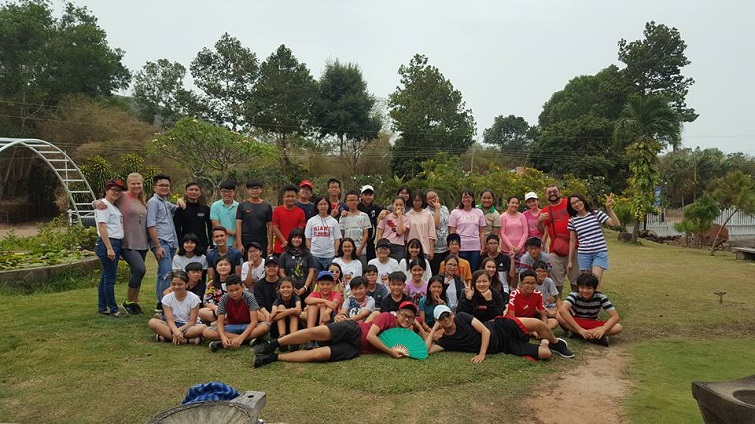 2018 Senior Camp
Camping is a fun, outdoor experience that helps us bond with nature and our fellow campers.  This year again, we've had an interesting and memorable trip to Ngoc Xuong Eco Resort.  We kept some classic SIS camp games, and added some new ones.  The campers had 24 hours of pure excitement from Friday to Saturday.
            Friday afternoon, the students clambered off the buses, got settled into their cabins and split up into teams.  From there, they enjoyed a round-robin of activities.  Each team created their own team flag, worked at as team to construct a typhoon-proof structure, had a mini-water fight with the teachers, played soccer in the shade, tried to be the closest to 'Pin the Sunnies on Mr Victor' and tried to avoid being stung in Mosquito Tag.  At night, the performances in a Lip Sync Battle were marvelous and comical.  Students pranced about on stage, doing their best to impersonate a singer or band of their choosing.  After laughing until we cried at the astounding performances, the students learned how to make Vietnamese Summer rolls in the nighttime cooking class. We ended the night with a bonfire and marshmallows, before we all drifted off to sleep.
            Saturday morning started out with some early-morning exercise.  Then after breakfast the students played Jail Break, card and board games and chilled.  The Team Scavenger Hunt was a HUGE success, as teams scrambled around the resort to find, create or persuade things from their list to happen.  As responsible citizens all the campers picked up garbage around the resort before leaving for Vung Tau.
            Overall, it was a great experience and the students really enjoyed themselves.  We all look forward to next year, when we can do it all over again!